Marian College aims to provide students with far more than a standard academic curriculum. There are a number of opportunities for engagement due to the varied activities on offer. These are held at lunchtime and afterschool. Each activity is supervised by a staff member; however, we encourage student leadership in each of the clubs. This allows students to; not only be involved in a club of interest, it also enables them to pursue any leadership aspirations they may have. Each club has an elected leader/s.
The sporting competitions we have on offer are: Badminton, Netball, Soccer, Indoor Cricket, Tennis and Basketball.
These are held during the school term, it is an inter-school competition and is seasonal. This is an opportunity for a short-term pursuit of a sport of interest. These opportunities allow for students to meet peers from different year levels and allow for good team and school spirit.
Performing Arts
Marian College offers an extensive range of co-curricular activities in the Performing Arts. These provide students with opportunities to express their performance abilities beyond the curriculum. They are available to all students and cover a wide range of exciting activities including choirs, bands and ensembles. Each group meets weekly and performs regularly at end of semester showcase concerts, assemblies and other College events.
At Marian College, we encourage all students to consider being a part of one, if not many, of our various programs, as we continue to nurture the talents that many of our students possess.
The program varies from year to year. In 2019, we are delighted to offer a range of choirs/vocal groups, bands and ensembles. These are directed by members of the Performing Arts staff, Creative Music in School instrumental teachers, and talented students mentored by Music staff.
Students have opportunities for development in leadership, from being an Ensemble Leader through to a Senior Captain or a Mentor (student ensemble music director).
We encourage students to get to know each other and form musical and friendship connections with students from other groups. Together they represent a significant proportion of our community as well as a diversity of ages and cultures that are part of being a secondary College community.
Choirs, Bands and Ensembles perform at Showcase concerts each semester so family and friends of our students have an opportunity to share in this part of their lives. We also run a Showcase concert for the local primary schools and invite residents from retirement or nursing homes in the area. Students can perform at a range of College events such as the VET Trade Training restaurant nights and parent information evenings. Different ensembles facilitate students to develop as solo performers within the group contexts.
CHOIRS AND VOCAL ENSEMBLES
Marian Choir – open to all students. Choir rehearsals are held every Monday at lunchtime and the students are working toward a classical choral sound featuring mostly a cappella singing of classical repertoire. This year the Marian Choir will once again participate in the Sacred Music Concert alongside many other Catholic Schools from the western region.
Student Leader: Mary Hubbard.
Director: Ms Mari Eleanor
Gospel Choir – open to all students, this choir celebrates the music of the various cultures of the Pacific Islanders. They also explore the music of contemporary Australian songwriters. Many of the students are active in youth Christian communities, and their music is imbued with a sense of devotion and praise. Gospel Choir has participated in the Sacred Music Concert, as part of the overall choir, as a choir on their own, and with individual girls joining the solo ensemble line-up. They have also supported local community events, such as the Sunshine Community Brass concert/fundraiser and the Regional Mass for the Opening of the School Year.
Student Leaders: Anastasia Mavaega.
Director: Michael Cooper
Student Mentors: Jessica Mahoney, Natasha Scavo and Cecilia Tafua
Vocal Ensemble – for more information, please contact Ms Eleanor
ROCK BANDS
We are delighted to see girls playing in rock bands, especially on the bass guitar and drum kit. Students tend to start playing tribute versions of their favourite songs and over time develop skills in creating their own versions using the original recordings and other covers for inspiration.
Leaders: Renee Scothern.
Director: Nick Disco
ENSEMBLES
Liturgy Ensemble
This group provides music for Masses, and includes solo singers who lead the congregation in singing the opening and closing songs as well as mass responses.
Leader: Indiana Hatzakortzian
Conductor: Mari Eleanor
Guitar Ensemble – for more information, please contact Ms Eleanor
Concert Band
Concert Band caters for students who enjoyed their semester of learning woodwind and brass instruments as part of their Year 7 Music Concert Band class. They rehearse every Thursday after school.
Leader: Joelle Barbar.
Director: Ms Mari Eleanor Piano Club – for more information, please contact Ms Eleanor
OTHER ACTIVITIES
Performing Arts aims to build relationships between students across different year levels and groups.
Performing Arts supports other activities within the College, such as the Justice and Democracy Forum's 'Cultural Diversity Evening', providing rehearsal spaces and technical support with lighting and sound.
One other activity for our Performing Arts faculty was our Musical Production. Our 2018 performance of Hairspray was a massive success. The Production was a huge undertaking, by both staff and students, and we were proud to produce a show that was amazing. Our 2020 production of Legally Blonde Jnr, the Musical, has been postponed to 2021.
Close
Students have the opportunity to join various clubs and to participate in competitions and challenges held across the year. These clubs include:
Social Justice
All of our social justice groups hold the Kildare Ministries Core Values, and Principals of Living Justice at the heart of what we do. We seek to live out and recreate a just and democratic society by:
Enacting Courageous Leadership – we seek to embody the life and work of Jesus, as an example of how to recognise the dignity of all humanity
Being open to Learning for Justice – we aim to listen to the needs of others, so that we can learn how best to serve them
Taking on the challenge of being a Community of Witness – we seek to speak for those who do not have a voice and stand up for justice when the dignity of the human person is threatened or disrespected.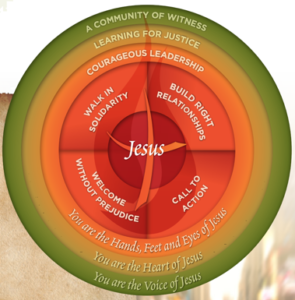 The social justice groups at Marian college exist as part of a wider network of schools, within Kildare Education Ministries, seeking to embody the framework of living justice in our college communities. Marian college provides a range of avenues to engage in:
Works of justice and service,
Fundraising, planning and teamwork building initiatives,
Confidence building activities that stem from leadership development, and
Educational opportunities relating to issues of social justice.

In doing so, we work in partnership with the Kildare Ministries community works: Brigidine Asylum Seeker Project (BASP), Australian Catholic Religious Against Trafficking in Humans (ACRATH), Wellsprings for Women, Presentation Family Centre, and Caritas Australia.
Throughout the course of the year, members of social justice groups at Marian College benefit from collaborative seminars within the network of schools that provide valuable educational input and resources to enact social justice initiatives within our local school community. Students coordinate, educate and advocate for a range of causes that are framed by significant times and events within the school year, such as:
Project compassion
International women's day
Cultural diversity week
Reconciliation week
Refugee week
Social justice week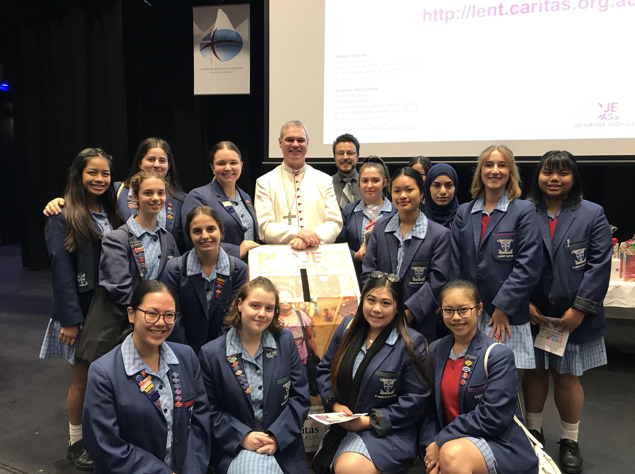 Close
Science Club
Science Club has been running for over 15 years at Marian College. The philosophy behind the Club is to enhance the inquiring minds of our students. Students from across year levels, come together on a fortnightly basis to enjoy Science.
The activities selected are to assist our students in understanding the different scientific disciplines between biology, chemistry, physics and environmental science. Students also have the opportunity to further develop practical skills that are taught in the classroom and to interact with technology such as our 3D printer and Virtual Reality headsets.
Our members also have the opportunity to participate in external competitions, which are often term long projects.
Science Club members thoroughly enjoy the hands on approach to exploring the world of Science. The friendly atmosphere has not only broadened their knowledge of the Sciences, it has also encouraged new friendships across year levels.
Close
Bike Club
Bike club started with some humble beginnings in 2012. However, as numbers started to grow, the school has gained two grants over recent years and now has a fleet of twenty-eight bikes and helmets that are provided to students to use each week.
Bike club provides an opportunity for students to build community, friendships across different years levels and promotes an outlet for physical and mental wellbeing. Students do not have to ride each week, although a lot do.
Rides are conducted on local bike paths each Friday after school over a distance of 7 km – 15 km, between3 pm – 4.30 pm. To help promote a positive riding culture at school two holiday rides are conducted over the term1 and 3 holidays that can be up to 30 km in distance. In addition, every two years a bike camp is offered as a challenge to members who are interested in riding the Rail Trail between Bright and Wangaratta over four days. The camp is run as an extra-curricular activity and requires families to pay a cost ranging from $200 – $250.
Close
Garden Club
Garden club provides an opportunity for students to learn gardening skills. Marian has set up a good old fashion vegie patch where members propagate and grow vegetables over the different seasons.
Students learn how to compost garden waste and use it to compost and improve social condition. While also developing an understanding of how to care for what they grow. Watering and caring for the plants in the vegie patch once a week or sometimes more, over lunchtime allows the girls to develop confidence and an appreciation of what they can achieve with some hard work. Harvesting produce that the students themselves have grown from seed can give the girls a sense of achievement and an outlet from the rigors and demands of every day schooling.
Close
Anime Club
Anime Club has been a feature of the Marian College landscape for a number of years. Established initially by students, the Club is now run by three staff members, who each share their passion for Anime.
Anime Club meets fortnightly and attracts a wide range of students from Year 7 to 11. During these meetings, members engage in several activities, including discussing their favourite Anime films and TV series, partaking in drawing competitions, and watching their favourite Anime titles, too. Student numbers often exceed 20, and each meeting is energetic, lively and enjoyed by all. It is a testament of the variety of texts that exist, and that Marian College students are embracing this breadth of choice
Close
Book Club
The Marian College Book Club is made up of passionate readers from Years 7 to Year 12. Members meet fortnightly in the Resource Centre to discuss their favourite books, share recommendations and to participate in fun book quizzes, challenges, games and activities.
It is wonderful to see fellow book lovers connect over a shared love of reading. This club encourages students to further engage with reading and to become lifelong readers. Students also have the opportunity to join the Library Monitor Program, which is a volunteer group of students who assist the library staff at recess and lunch times.
The library programs reflect the strong reading culture at Marian.
Close